Audio - video - lighting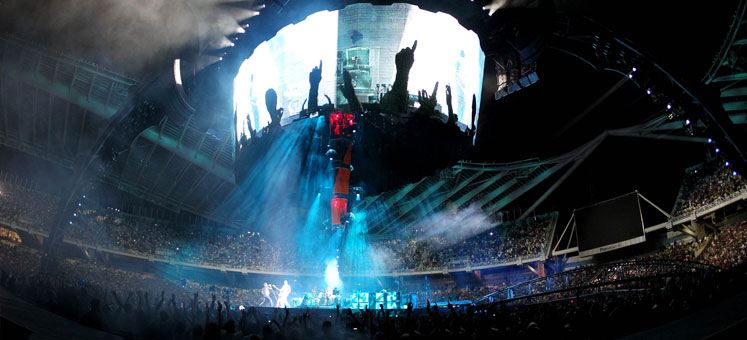 SUPERSOUND Audio / Video / Lighting is a full service technical event production company based in Northern Greece. SUPERSOUND provides technical services for sporting events, concerts, parades, trade shows, conferences, weddings, air shows, theater, galas and many events.
With offices in Northern Greece, we work all over. We have many years of business experience and are among the most respected and accomplished companies in the industry.
No matter the size, scale, vision, budget or venue, SUPERSOUND will bring a wide range of experience, knowledge and quality service to every event.
Audio services
From line array systems for concert audiences to small systems for private parties, SUPERSOUND does it all.
Our professional and talented team of sound engineers coupled with our top-notch equipment assures the quality and excellence of sound that has come to be synonymous with the McCune name.
McCune has an up-to-date inventory of professional sound gear and we use nothing but the best. We stock Meyer, Midas, Yamaha, Lexicon, Shure, AKG, ATM, Sennheiser, Telex, Clearcom and many more.
We provides audio services for sporting events, concerts, parades, trade shows, conferences, weddings, air shows, theater, galas and other events too numerous to mention.
Lighiting services
Lighting design sets the mood and tone of your event and can be used to enhance any venue, large or small. It can make a dramatic statement or simply add elegance or flair. SUPERSOUND creative lighting design team will work with you to design a floor plan, select a lighting system and implement a design that best fits the vision you have for your event. Supporting our talented lighting design team is SUPERSOUND comprehensive and professional inventory of conventional and animated lighting, including such brands as Martin, Jands, Flying Pig, ETC, Art-i, Leprecon, Lycian and more. Our lighting effects modules include strobes, color faders, color scrollers, foggers, hazers, custom gobos and decor lighting.
With these tools and your collaboration, SUPERSOUND makes your vision come to light!
Video services
Video projection is a powerful tool that can add energy and movement to any event space. By transforming your venue into a creative, dynamic atmosphere, you will clearly communicate your message. Whatever scale of event or video requirements SUPERSOUND is capable of handling it all.
From wide screen projector blending to PowerPoint projection, SUPERSOUND talented video technicians will help you put together a package that best implements your vision. SUPERSOUND offers a huge inventory of video equipment including HD projectors, plasma and LCD screens, a full range of camera equipment and a full service in-house video production studio to assist you with pre and post production event support. Simply put, SUPERSOUND provides only the best equipment and the best technicians to make certain your event is a success.